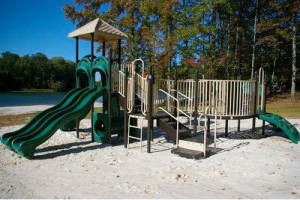 In late August 2009, the Bent Tree Foundation was contacted by the Greiner Family Foundation to discuss a grant for upgrading the playground equipment at our beach area. This most generous restricted donation was offered to the Foundation to replace the older beach playground equipment with new kid-safe designed equipment. An agreement was made between the Greiner Family Foundation, Bent Tree Community, Inc. and the Bent Tree Foundation for this substantial grant.
This very generous grant from the Greiner Family Foundation has done much to enhance our beach area and the older playground equipment it replaced was donated to Pickens County for use in one of the public parks.
This donation was the ice-breaker for the newly-formed Foundation, and we remain extremely grateful to the Greiner Family Foundation for their generosity.